Bendigo region athletes have launched a successful assault on the 2021 Nike Melbourne Marathon with overall top twelve placings in the Nike Marathon, Nike Half Marathon and Sri Lankan Airlines 10km events respectively.
Brady Threlfall finished 8th in the Marathon with Nathan Stoate close behind in 12th position. In the Half Marathon, Archie Reid finished 8th with Brian McGinley coming home strongly to finish in 10th position. In the women's 10km, recent recruit Nikki Lesberg was the fifth female across the line.
These are all fantastic efforts with each of these races won by Australian Olympic representatives from the Tokyo 2020 Games.
Meanwhile, evergreen Jill Wilkie has broken through the 3 hour barrier for the first time and clocked what we believe is a new over 55 year old Australian Record with a time of 2 hours 56 minutes 9 seconds (yet to be verified).
Across the board, there were Personal Bests from so many Bendigo athletes, plenty of cheer and encouragement for one another and. The Melbourne Marathon Festival is typically held in October, but was cancelled in 2020 and then post-poned to December for 2021 due to the coronavirus pandemic. Fears of a roasting hot day were unfounded with perfect running conditions reported by many of our atheltes.
Below is what some of the Bendigo athletes shared post-race. Apologies if we've missed anyone, there were 28,000+ participants across all of the events!
Nike Marathon – 42.2km
With star runner, Andy Buchanan, withdrawing two weeks prior to the event due to injury, the spotlight fell upon Brady Threlfall and Nathan Stoate to lead Bendigo's charge: they did NOT disappoint. Unfortunately, despite a solid build-up and a personal best set earlier in 2021, Bendigo Harriers athlete Jamie Cook withdrew due to hip tightness before the 20km point.
Men
Brady Threlfall – 8th Overall – 02:20:40
View this post on Instagram
We recently previewed Brady's marathon build up and as he prepares for the arrival of baby number two. He put together an outstanding performance that he can be very proud of. Here's what Brady said post-race:
"Really happy with the result and how I executed it with the second half only being 11 seconds slower than the first, despite there being hills on the course between 35-39km.

It was great to be back in a mass participation event and be amongst the running community out there. A huge thanks to all the organisers who helped it go ahead.
Nathan Stoate – 12th Overall – 02:21:53
(Big PB)
A young athlete who is improving in leaps and bounds is Nathan Stoate. He had a brilliant day out at Melbourne, firmly planted in the second pack on the road throughout the race until the tough latter stages. Here's what Nath said:
"I just worked with Brady and a few other guys in a pack today. We all took it turns of taking a couple if kms each. When we got to 37k and a few of them got away and the tired legs kicked in a bit for me. However, I'm still happy to hang on with some solid splits still towards the end."
Stephen Van Rees – 02:37:38 – 43rd
~ 5 min PB!
"It was really great to be out racing again, with a big field and lots of spectators, too. It was awesome seeing all the other Bendigo runners on the course when we doubled back we received lots of cheers and encouragement."

Also, a shout out to (fellow Bendigo-born, but Collingwood registered athlete and co-founder of Erniold clothing) Xavier Meade for the company on the course."
Luke Crameri – 02:38:41– 48th
~ 8 min+ PB
I'm really happy with the result today. It is a very satisfying feeling when all the work preparing for a marathon pays off and you reach your goal! Big shout out to Brady (Threlfall) for nailing the training program for me.
Congratulations to these other Men's Bendigo finishers:
Jarrod Bateson – 2:55:09
Rory Flanagan – 2.56.49
Nick McDermott – 3:07:25
John Flood – 3.08.09
Simon Austin – 3.24.00
David Cripps – 3.26.13.
Jarrod Pyke – 3:27:23
David Lonsdale – 3.43.45.
Karl Stoltz – 4.12.30.
Darren Hartland – 5:07:54
Sam Esmore – 6.05.12.
(Apologies if we've missed anyone, there were 28,000+ participants across all of the events. Please email us )
Women
Jill Wilkie – 2:56:09
~ 4 min PB
Potential NEW Female Over 55 year old Australian Record
(Unverified)
It really was an amazing day. What really stood out for me was the amazing camaraderie – not only by fellow runners out on the course – but all the tremendous support by friends/strangers/family during and after the run.

For example, I was gutted to miss seeing Andy Buchanan run an amazing time in the Marathon, but then Andy kept on popping up all over the course with fabulous cheering and encouragement. It was an incredible course to keep seeing fellow Bendigo runners on all the twists and turns shouting out and driving me on!

I couldn't have done it without them – and of course without my long suffering hubby and kids!
Alice Wilkinson – 3:12:44
~ 4 min PB
My legs are pretty cooked now! It was a fantastic day out there, perfect weather and it was so great to be back in a big race. I'm pretty happy with how my run went, kept it fairly evenly paced for the first 30km.

However, I got a bit carried away at around 34k and ended up with a stitch, but I managed to shake it after about a km. I am really proud of the way I managed to finish strong despite this setback especially on the hillier parts around the Tan and Shrine of Remembrance.

In the end, it was just over a 4 min PB.
Congratulations to these other Bendigo women's marathon finishers:
Rhianna Wik-Gamble – 3.48.49
Col Ferguson – 4:00:38
Frances Walsh – 4.48.52.
(Apologies if we've missed anyone, there were 28,000+ participants across all of the events)
Nike Half Marathon – 21.1km
Men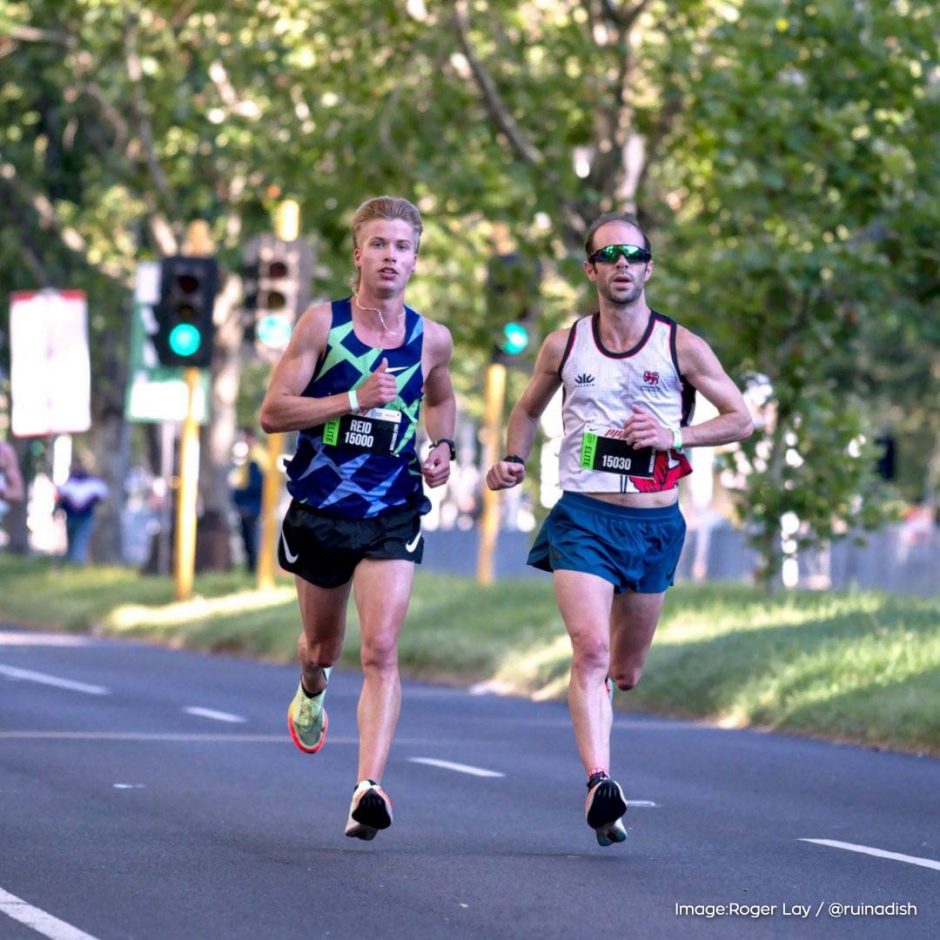 Archie Reid – 8th Overall – 1:06:38
It was a solid run – I was on pace for a PB until 15km I started to struggle up the last few hills. I'm really happy to come away with 3rd in the 20-24 age group! Will now focus my training on Zatopek 10.
Brian McGinley – 10th Overall – 1:07:52
New Personal Best!
Elmore's Brian McGinley hunted down runners in the finally and closed strongly to finish tenth! After injury interupted him joining the Bendigo Bats XCR team through the winter, it was a relief to see him in the race kit:
I was extremely happy with today's race. Perfect conditions and fantastic support around the course, it shaped up to be a great opportunity to run a decent time. I went out a tad quick than I should have and struggled over the last 6km or so, however the line just came in time and was over the moon with a pb! I was also excited to finally make my debut in a Bendigo Bats singlet. I had been out injured for several months during the year, but it was most definitely worth the wait. Looking forward to continue racing for the bats over the track and xc seasons next year.
Russell Jenkins – 1:25:07
The accomplished veteran suffered from illness which derailed his build-up, but he still had a great day out:
Marathon (and half marathon) running can be so flukey. Athletes undergo a 12 to 16 week program, running 100 to 200 km's a week.

Then a plethora of factors – be they lockdowns, thunderstorms, heat, wind, a cold/virus, the dreaded runner's injuries – can make that hard work go to waste. It's a game of chance!

Fortunately, today was close to perfect: the state opened up from COVID restrictions, the sun shone brightly and the wind dropped away. (It was) a distance runners heaven.

So good to see Bendigo out there in force. Athletes across all events, spectators traveling down and supporting us, there were even Bendigo officials at the start line – a city long famed for it's cycling, is fast becoming a city equally famed for its runners!
Luke Millard – 1:25:39
On reflection, it was great to be back on the start line at an event and Melbourne certainly did a great job. Some good learnings from today about pacing and staying patient early for future events.
Congratulations to these other Male Half Marathon finishers:
Dylan Ferguson – 1:32:00
Kevin Walsh – 1.45.17.
Women
Bec Wilkinson – 1:27:55 – 40th
~ 2 min PB
It was amazing to be amongst the atmosphere of a big race again and so inspiring to see so many Bendigo runners out there in all of the distances over the weekend.

We were incredibly lucky with the weather conditions, it was nice and cool with virtually no wind which was a nice surprise being a race in December.

I managed to get an almost 2 minute PB on my half marathon time which I'm really happy with. I'm looking forward to a big year of racing in 2022!
Sri Lankan Airlines 10km
Women
Nikki Lesberg – 36:30 – 5th place
~ 2 min PB
Recent recruit to the Bendigo University Athletics Club, Nikki Lesberg, finished as the 5th placed female overall with a 2 and a half minute PB! Congratulations Nikki and welcome aboard.
(Apologies if we've missed anyone, there were 28,000+ participants across all of the events)